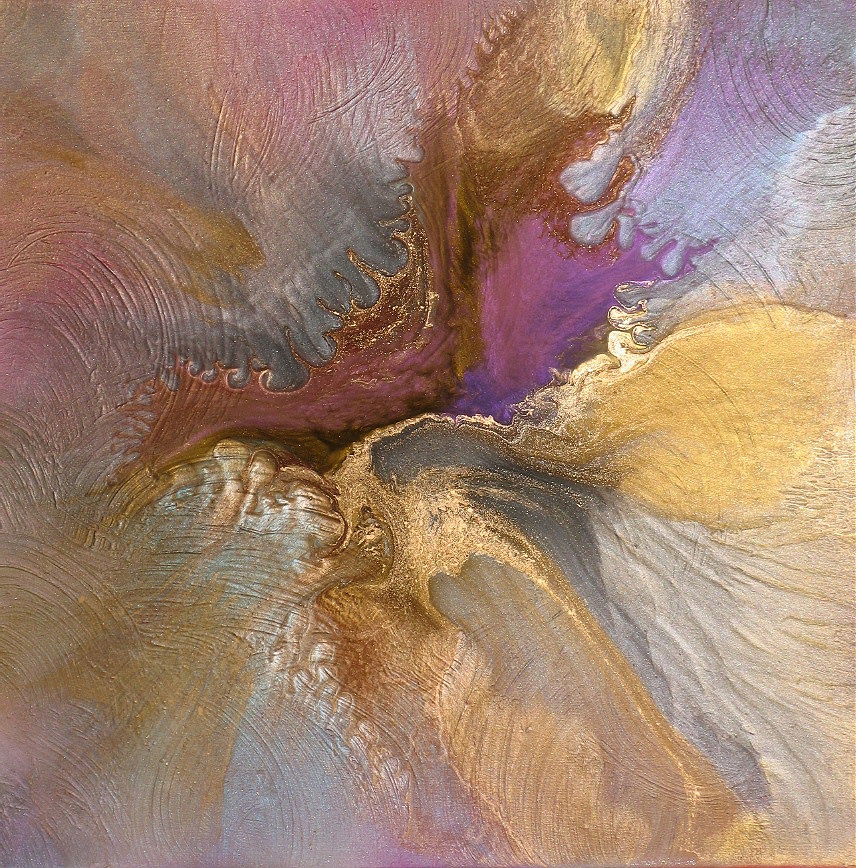 " Iíve always been inspired by colors and the feelings they invoke. For the past 15 years I have been experimenting with new cutting edge materials and became fascinated with the explosion of colors that occur. After years of developing and refining new techniques to work with these materials, Iíve created paintings that look very much like art glass. Each painting has many layers of colors, textures, and special effects, that give a 3 dimensional look. The passionate color interactions that occur with these materials, mesmerizes me each time I create a new painting."
Susan Clarke
BIOGRAPHY
I was born in Hemet, CA in 1951, and moved to Chico in 1952 when my dad got a job as a school teacher at Chico High School. I went to school in Chico, and after graduating high scool, attended Chico State as an Art major. As I was about to enter my senior year at Chico State, one of my art professors took me aside and handed me a job application from American Greeting Cards. At 19, I got the job. So, I moved to Cleveland and was hired as a humorous greeting card artist. Being the youngest artist there, I had a hard time with the weather and the loneliness and returned to Chico about a year later.
I got my next job in the art dept. at the Nut Tree in Vacaville, CA. As a display designer, it was a heavenly place to work and had many perks. The original owner, Helen Power, hired me to paint one of her carousel horses for her home. She also arranged a show of my small paintings in the "Beer Garden", and had one of my bosses in the art department, take me to San Francisco, to a licensing company named Aviva, Inc. While there, I showed them my 3-D figurines, which they picked up and marketed under the name "The Funky Bunch".
I moved back to Chico a couple of years later to get married. I had one daughter named Myra. Two years later, in 1977, I started my own business manufacturing giftware. Eventually I moved my business to 8th and Broadway. I had expanded into making ornaments and statuettes. About this time, I began manufacturing refrigerator magnets as well. A couple of major accounts I sold to included Mervyns and Disney World. I also did a lot of freelance work for Enesco Corporation, Crazy Shirts of Hawaii, and different greeting card companies. A few years later, I opened Teddy Bear Junction in downtown Chico in the Garden Walk, which I later sold.
When I was 34, I moved to Red Bluff, CA, where my business continued to evolve. I continued to produce refrigerator magnets, but I started designing and making jewelry as well. My paintings were accepted into the Dodge Gallery in Carmel, CA around this time. Hand painted clothing buttons and charms were also added to our product line.
Then, in 1999, my husband and I discovered some new mediums and other specialty compounds, which were so totally different than anything else, I became re-inspired to put my work on canvas. Although it took several years to develop the new techniques necessary to work with these materials, the results are truly captivating.
In 2002, I moved out of the city to a wondrous forest in Redding, CA, where I have my own studio and workshop. I still continue to produce my buttons, charms, and jewelry, but my major focus is in creating new art.
Copyright 2016 Susan Clarke